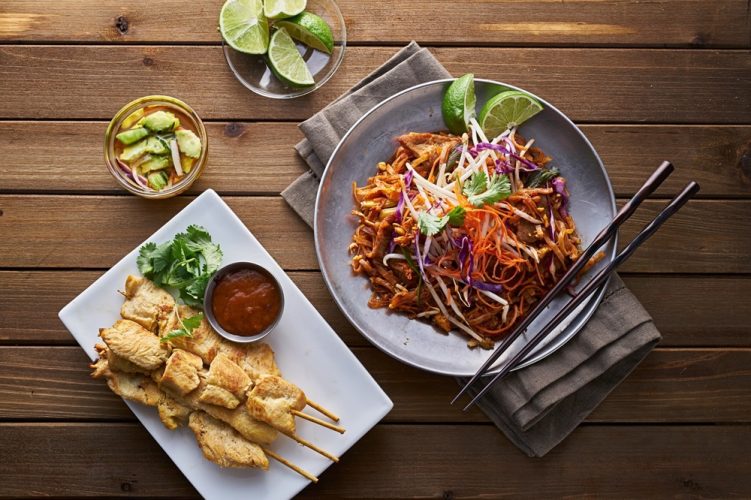 Pad Thai is one of the most popular Thai dishes that people outside of their culture appreciate and love. It's a comfort food with a sophisticated and complex presentation.
The cornucopia of ingredients added to make this dish perfect represents the abundance of Thailand and the richness of their culture. If there is one dish that can sum up the culture, history, and foundation of Thailand, it is a bowl of classic pad Thai.
Looking at the dish itself would make you think that it takes an expert to make one. While it's true that expert chefs can make this interesting dish a masterpiece, it doesn't mean that you can't make a decent pad Thai meal yourself.
All you need are fresh and well-picked ingredients, the right kitchen tools, an easy-to-follow cooking guide, and an unwavering desire to cook and you should be good to go. To start with, here are the things you need to make a delicious bowl of classic pad Thai:
Ingredients:
4 ounces dried pad Thai noodles
2 tablespoons shaved palm sugar or cane sugar
2 teaspoons pure tamarind concentrate
4 teaspoons fish sauce
2 teaspoons rice vinegar
1/2 tablespoon minced fresh ginger
1/2 tablespoon minced garlic
1/2 tablespoon minced shallots
1/2 tablespoon minced lemongrass
2 tablespoons soy or peanut oil
2 large eggs
2 ounces cooked shrimp, lobster, calamari, chicken or duck, cut into bite-size pieces
2 tablespoons diced smoked tofu
2/3 cup finely chopped scallions
2 tablespoons crushed roasted peanuts
2 tablespoons mung bean sprouts
2 lime wedges
What You Need:
1 medium sized bowl
1 wok or skillet
1 medium-sized pad Thai serving bowl
How to Cook Pad Thai:
Place the noodles in a medium-sized bowl, pour in warm water and cover for one hour.
Prepare the pad Thai sauce by combining fish sauce, lime juice, tamarind paste, sriracha, vinegar, and sugar in a small bowl. Set aside.
Place a wok over high heat, add the peanut oil and make sure that it coats the pan completely. When you think it is heated enough, add the garlic and stir until it turns into golden brown. Then add the shrimp, tofu, and turnip. Stir-fry for about 3-4 minutes until it becomes soft. Add the chicken and stir-fry for 2 minutes until the chicken is no longer.
Push the ingredients to the side of the pan. Crack the eggs and lightly scramble for about 30 seconds. Stir the rest of the ingredients with the egg, and add the rest of the ingredients, especially the fresh shrimp. Keep stir-frying until the shrimp is halfway cooked.
Add the noodles and cook until it's soft. Add the pad Thai sauce and season as desired. Cook for about 2 minutes until the liquid is absorbed by the noodles. Add the green onions and bean sprouts. Leave the vegetables to steam for a minute.
Garnish with 3 tablespoons of peanuts and the rest of the green onions.
Serve while hot.
See? It's really easy to make your own pad Thai at home. You can prepare and cook this meal in just 30 minutes. Of course, it's best served with appropriate serving bowls like the rest of the Thai recipes you know. If you'd like advice on where to find cheap and good quality serving bowls, we have made a list of serving bowls that would make your Asian-inspired meals a lot more authentic.
Fifty bucks sound like a lot to spend but if you're getting a good deal out of it, it's totally worth it. This handy little pan and stove is certainly worth more than its price. It is multifunctional and can be used not just for making barbecues but also for making soup and steaming dumplings as well.
Considering the construction of the item itself, you can see that the material is of high quality. It's very easy to maintain since its design makes it very easy to clean up after use.
Features
Those who are a sucker for barbecues will definitely love this Thai Korean Japanese Style BBQ Grill Steak Hot Pan + Stove Set Kitchen Ware. It's designed for more than just one purpose.
Multi-functional -. Used not only for grilling but for making soup and steaming dumplings as well, this is a multi-functional stove set. It runs on butane or alcohol gel which makes it energy efficient.
Excellent construction – Made out of high-quality materials, this pan/stove is expected to last for the longest time. The design itself has been considered for safety and health purposes. It is very easy to clean and maintain this item since its overall design is rather straightforward. It is indeed simple and efficient.
Very portable – this pan is lightweight and portable, making it very convenient to carry around during outdoor events like picnic or Sunday barbeque lunch dates with the family.
Things to look out for
Only good for 2-3 people – This pan is only large enough to cook for two to three people. You might require two or three of these pans to feed more than five people or if you are going to host a dinner with family and friends.
Bottom line
For those want to enjoy the delicious flavors of Thai, Japanese, and Korean barbecues, this is the perfect grill/pan/stove set for you. It is a complete set that will give you everything you need to prepare a delicious Asian–inspired meal.
You can use it for barbecues, soup, and dumplings. It won't take a lot of effort to clean it up after use since the design is not complicated. If you consider it seriously, it is indeed an excellent bargain for less than $50.
You will surely get a bang for your buck with his handy little barbecue grill set which you can get for a little over fifty bucks. It is designed for small and intimate meals with family and very close friends. It can be used for indoor and outdoor cooking as well.
The whole set is very lightweight and it's easy to carry for outdoor events. Despite its light construction, the materials are guaranteed to be high quality. It's easy to clean and maintain, intended for long-time use.
Features
There are a lot of things to love about the Thai / Korean Table Top Charcoal Barbecue BBQ Grill Set, but one of its main features is its functionality.
Multi-functional – Aside from grilling thin-sliced meat, you can also make soup and cook vegetables on it.
Great materials and excellent construction – this barbecue grill set is created using strong and high-quality materials. The main material is protected from heat with the enamel coating that surrounds it. It is very durable and is expected to last for a long time.
Energy-efficient – It runs on its own charcoal base so there is no need for another source of heat to make it work.
Convenient design – Because of its rather simple design, this pan is very easy to clean
Advantages
It can be used for small and intimate dinner events.
This barbecue set is designed for outdoor picnics and barbecues as well.
It offers multiple functions for a price that is very affordable.
Things to look out for
Very small barbecue set – This grill set cooks great and is very easy to use but it is very small and can only be used for small dinner parties. It would require two or three of these to cook for more than five people.
Bottom line
Unlike in other countries, barbecues in Thailand or Korea are done using a special grilling set. While other barbecues are cooked in large grill sets outside, most Asian barbecues are cooked on top of the dining table itself during the meal.
The Thai/Korean Table Top Charcoal Barbeque Grill Set is an example of a complete set that you can use for this purpose. With this grill set, you will enjoy making barbecues while dining with your family and friends.
You can find a lot of steamers set in the market but nothing works as well as the Thai Sticky Rice Steamer Set. It is created using high-quality materials intended to make it durable and to last a long time. It is large enough to cook a quart of rice in one batch. It is neatly made and it does its steaming job quite nicely. For only $18.95, you definitely get more than your money's wort
Features
Excellent material – This product is designed to steam the rice into the right texture and consistency. It is made of excellent quality bamboo and woven into a rigid and durable container.
Convenient to use – No need for cheesecloth for the lining when steaming. Since it is very easy to clean, it is very easy to maintain this set in good condition.
Well-designed – The pot itself is made of high quality aluminum material. The dimensions are 8 inches in width and about 10 inches in height.
Very durable – Made by one of the most trusted brands that produce high quality Asian cooking equipment, you can guarantee that this rice steamer set is long-lasting and very durable.
Very affordable – Excellent design and high-quality material all for less than $20.
Things to look out for
Long delivery time – There aren't a lot of complaints posted for this item except for the very long delivery period since the item comes directly from Thailand.
Bottom line
The Thai Sticky Rice Steamer Set is indeed a well-reviewed rice steamer set and it is one of the best that you can find in the market. For less than 20 bucks, you will have an excellent rice steamer set that you can use for making steamed rice, fish, vegetables, and dumplings.
It is known steamed rice is very popular among Asian menus and in order for you to make your own steamed rice you need the right equipment to help you get the right consistency and texture.
There are many products available in the market today but nothing is as good and cheap as the Kanom Krok Pan | Cast-iron Aebleskiver Pan. It is a high-quality cast-iron pan that is designed for making delicious and flavorful pancakes.
It can be used for making takoyaki as well. The material used in manufacturing this pan is of high quality, making it one of the most durable items in this category. It is very easy to clean and maintain.
Features
Kanom Krok Pan | Cast-iron Aebleskiver Pan surely puts a twist to your usual pancake.
Excellent material – This pan is made of high-quality cast iron that has excellent thermal conductivity properties, making it very efficient in cooking your pancakes, not to mention retaining its delicious flavor.
Safe design – The lid and safety handles are intended to make it really safe to use. Since it is very safe, even children use it for their cooking classes.
Good size and dimensions – There are seven holes in this pan and its diameter is 7 inches. The end product's size is just a standard aebleskiver's size.
Convenient for cleaning – Since the cast iron makes it really easy to clean spilled batters, it doesn't need a lot of effort to clean this pan after use.
Things to look out for
Slightly big for a takoyaki – The size of the wholes is more appropriate for aebleskivers.
Bottom line
This is your pancake buddy that will help you make the best-tasting pancakes ever. This pan is intended for the fun and safe cooking of your favorite ableskivers or takoyaki.
The main material is made of high-quality cast iron, which is not only good in cooking and making the pancakes taste even better, it is also designed for durability and long-term use.
The pan is also designed to be very safe so it can be used even by children.
Tom yum soup is one of the best dishes Thailand has to offer and it is only fitting to serve your homemade tom yum soup in a serving bowl with the best quality. The Aluminum Thai Hot Pot Tom Yum Serving Bowl is one of the best you can find in the market.
The design and quality is worth more than the price that it comes with. You can use it to make delicious tom yum soup and improve your meal experience by maintaining the soup in the right temperature all throughout the meal.
Features
Excellent Material – Aside from its durable construction, the Aluminum Thai Hot Pot Tom Yum Serving Bowl keeps your delicious tom yum soup heated for as long as possible while keeping the soup's rich and tasty flavor.
Energy Efficient – Can be heated using charcoal or an alcohol burner, making it one of the most energy efficient serving bowls for tom yum soup.
Well-thought out Dimensions – This soup bowl is intended for 3-5 servings. The dimensions are 22 cm width and 18 cm height – a size just appropriate for a medium-sized table. There are 2 other size options that you can choose from.
Safe and Convenient Design – Because of its coated, heat-resistant handles and a tight lid for easy handling, this bowl is very safe to use.
Advantages
You can use this bowl for indoor and outdoor events.
It is very easy to bring to picnics because of its lightweight construction.
It is very pleasing to look at on top of the dining table during intimate dinners with family or friends.
Things to look out for
Could be slightly more expensive than other items in the market. It is a very new product and there is not a lot of feedback for it in product reviews sites yet, but one thing that most customers say about it is it is slightly more expensive than other options they have.
Bottom line
Made of high-quality aluminum, this serving bowl is designed to retain the heat and keep the flavors of your delicious soup. The structure of the soup itself is perfect for your dining table. It is very neat and appealing to the eyes. Aside from that, it is very easy to clean and store for proper maintenance. The features and the quality are totally worth every penny spent for this item.